henry

It was about two years ago and some change. I was at a Warren Miller premier. They had a long segment about Japan, and how it's the hidden gem when it comes to deep snow. I remember seeing the composition of powder skiing, sushi and sake. It was then where I committed to myself that I would be traveling to Japan in the near future. My good friend Sam and I gushed all winter over what it would be like to ski japow (the word used to describe the metric ton of snow they get there). After a few minor hesitations, we both committed. We were headed to Japan. Now, here we are, sitting in an Airbnb in Tokyo with our skis, ready for the experience of a lifetime. Shoutout to our bosses for letting us go!
Besides me forgetting my laptop in security and Sam's flight having mechanical issues on the tarmac it was surprisingly easy getting to Tokyo, then to our Airbnb. The subway from the airport was immaculate and luxurious. Sam and I were discussing how great it would be to have one of these from Denver to Vail!
Sam and I went to a hole in the wall to grab some late night dinner (about 11pm our time, early morning in the states). They were playing a WWII documentary focused on Pearl Harbor when we walked in. Awkward to say the least. Big beers after a big day of travel.
Our Airbnb is quant, as is everything in Tokyo. The view outside right now reminds me of San Francisco, grey, with stacked, low level buildings. Today, we're traveling deeper into the city to discover as much as we can. I'm trying to constantly remind myself to stay present. Let's go.
We ventured hard today, hitting 4 different neighborhoods in downtown Tokyo. I can't say enough about how easy and cheap it is to get around here. The subway cost about $1 for every 30 minutes you're on it.
Breakfast this morning was interesting. We saw a sign with a coffee bean and b-lined it for the door. I got the vibe that it was someones living room that they turned into a restaurant as soon as someone came through the door. We sat down, the owner said something and Japanese and we nodded. Our order was in. First was pour over coffee, unreal. Next was egg sandwiches cut bite size with coffee gelatin. Coffee + coffee gelatin= ready for the day!
After that interesting breakfast, our first stop of the day was the emperors crib, Imperial Palace. This place was as clean and peaceful as can be. I guess I would compare it to visiting the White house, just grander.
After a nice stroll in the park, we ventured into the depths of Tokyo, Shibuya to be exact. More people then the park, but not as many people as I thought there'd be. Here we ate our first sushi and drank our first sake. A moment we've been waiting for. The area reminded me a bit of NYC's china town. A LOT going on. Entertainment galore. Video games, moves, other weird shit, I wasn't really sure what was going on, oh, and executive strip clubs. Cool! Right Hads?
Boss Coffee. Our new favorite beverage. Sam and I both downed a nice, hot, can of Boss Coffee. Just the thing we needed after nice, hot, sakeeee.
Yoyogi Park was next. We walked 15 minutes away from the most over whelming entertainment experience to the most peaceful park I've ever been to. This was a sacred place. Lots of bowing. Lots of praying. We drank water from a well out of wooden spoons, witnessed a wedding, and bowed where we were supposed to. Do as the romans do, right?
From there, we hopped over to the boutique shopping district of Tokyo. A few things I want to note here. The service in Japan so far has been remarkable. These are the nicest, most grateful people I've ever met, hands down. Also, Tokyo, or Japan in general, is the cleanest place I've ever been. Tokyo is so clean that the toughest thing to find is a trash can.
The next thing is Google Maps. It is the most efficient way to travel a unknown city, especially a city as unfamiliar and as grand as Tokyo. It tells us exactly where to walk, what subway line to get on, where to get off, and so on. It is a life(day) saver. Alright, time to get some rest before a big night. We're hitting the town ✌
Well, that was fun. Sam and I had quite the night. A night you would want to have when traveling to a foreign country. We started by eating ramen at a hole in the wall in Shibuya, hopped around to a few bars, ended up at a club, met a ton of welcoming locals, danced to Bieber, ate ramen again, and taxied back in our humble abode around 5:30am. What a time to be alive.
We woke up late this morning, around noon, gathered our thoughts and reminisced about the night for a bit. First stop was coffee, then to the SkyTree, which is about 2,000 feet tall and located a mile from our place. Tokyo is massive, we know that, but it's hard to grasp on the ground. Get up 2,000 ft and and the magnitude is eye opening. Buildings on buildings on buildings.
Time to head into the city. At this point, we're fairly hungover and exhausted, but the weather is nice and we're in Tokyo, so let's go. Next stop Beams for some shopping.
As you can see, Sam bought a #veryrare Patagonia lid (notice the ear flaps). I was looking for a Topo bag but to no avail. We did come across Bean Boots though. Maine represent.
Dinner with Sam's boss, OpenSnow founder, Joel, and his wife Lauren. After eating ramen for the past few meals it was time for some raw fish. Everything was on point. Service was 100. Fish was fresh and cheap. An interesting nuance, there were mini clams in our (free) miso soup. Yum yum yum.
Late night tonight. Writing this at the airport around 3:20am waiting for the airline to open up it's baggage check. Only thing keeping us going is the neck deep powder on the other side of this 2 hour flight.
We made it. It was a long 36 hours, with a few short naps, and a lot of canned coffee, but we made it. After landing in Sapporo we took a bus to get our van. Nicest people in the world. We packed our quilts, and off we were. Japan by van for the next 8 days.
It was about an hour drive to Niesko. We would be staying in a hostel there for the next 3 nights. I will describe this place in more detail later.
This was our first time driving on the left side of the road. Sam did great, given our van was 15 long.
Either it was the canned coffee or adrenaline, but we decided skinning up two massive peaks when we got there would be a good idea. After some teriyaki chicken and a beer of course.
It was a great idea. Our minds become oblivious of how sleep deprived we actually were. It was time to ski, finally.
"This is the coolest thing I've ever done."
"These are the times when I'm happiest in my life."
"We did it man. We made it happen."
Ready to ski again. Ski deep, untouched, Instagram worthy, powder. What we got though was crusty, blizzard conditions. Our morale was shot. We had hyped this moment up for the past 4 months and got nothing.
It was time for some ramen to heighten our spirits. We took this time to not only enjoy the fine cuisine, but to figure out where the hell the snow was. It's been nice traveling with a meteorologist!
As the day went on, our spirits lifted. We knew things could only get better.
After a post apocalyptic ski day, we headed back to our hostel. Time for a few beers in the onsen. But first, a picture of the Yotei Volcano located in Niseko.
Onsens have to be one of best things you can do for your body and soul after a long day of skiing. We purchased a few beers, stripped down, and headed in for a soak. I wish I had more pictures of this, but it's frowned upon to take pictures of naked men bathing. It was great, trust me.
We found it. It was just like they said it is. Deep, fluffy, endless powder. Thanks to Sam, we were able to locate this magical place and surf some Japow yesterday. Conditions were a little stormy, but we couldn't complain. We couldn't do much besides focus on our next run.
Last night we visited SOAN. A small restaurant located in downtown Niseko. Here we had all you can eat, cook it yourself, khan style yakinuku/BBQ for about Y2500/per person. Devoured.
We got talking to a young Australian waiter who has been living there to ski and white water raft. He told us that the grills were shaped like Mongolian hats because the Mongolians are rooted in the origins of the Japanese people. Cheers to history.
Above is the nicest woman you'll ever be privileged enough to meet (besides our mothers of course!). We actually called her mom. Not to her face, but that's how we've been referencing her. She ran the hostel we stayed at for the past three nights.
As you walk in, you instantly feel a sense of home. No shoes of course. Kitchen area to your right. Japenese style baths in the basement. Humble bedrooms upstairs. A major highlight of the trip.
This morning we drove to Kokusai Ski Resort. It took about an hour 30 but it was well worth it. The weather man was right, it was deep. We've been collecting tips from friends who've been here so we somewhat knew where to go. Under the gondola, either side.
This was not only the best snow I've ever skied, but it was also the most beautiful place I've ever skied. It's a bit hard to tell in the pictures, but it had sort of a glow to it. Magical is the word I used to describe it.
Another great thing about Kokusai was the lack of powder skiers. Most Japanese skiers use racing skies and aren't very good. From what we've heard, the sport isn't very big here.
The resort had several loud speakers used to deter people from cutting ropes. It was all in Japanese, so for all we know they were encouraging us. The ski day ended with us finding a whole new section. More for tomorrow, now, time for the onsen!
Today we were discussing the fact that we haven't met many locals. We've had dinner with a couple from Australia, discussed American politics, single player health care and a lot more. But meeting locals was tough mostly because of the language barrier.
Tonight though, we got talking with two young locals, about our age. It was a very similar conversation to what would happen in the states, other than the charades that were played trying to communicate. All good, we're now Facebook friends and have the hookup when we come back. Vise Versa of course.
First night in the van. Let's hope we don't freeze!
We didn't freeze.
The van has really been the one constant of the trip. No matter where we've been skiing, or what onsen we're soaking in, coming back to the van after a tiring day has been luxurious. Van life is the life.
Tried skiing yesterday but our legs were spent. We ending up eating ramen and hanging out with local rugrats in the lodge. Maybe it was our white skin, or the fact I invited them to join the FaceTime I was having with my mom, but they were all enthralled with us. Running around the lodge, returning to our table every 2 minutes to say hi, then bye.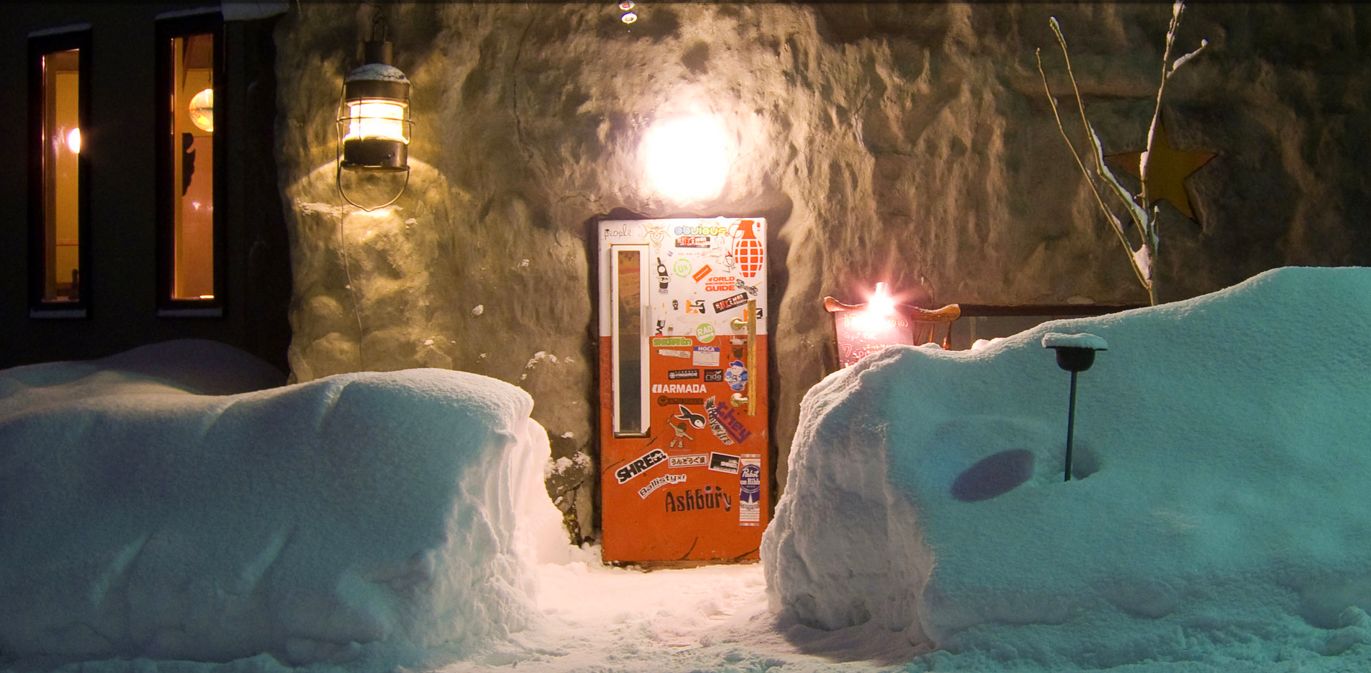 Last night we stepped out the van to see what the Niseko night life was all about. Thanks to a great recommendation from Sam's friend Dav, and Google maps of course, we were able to find a literal hole in the wall called The Fridge. Here we drank the best sake of our lives.
The sake here reminded me of micro brewing in Colorado. Small batches, attention to detail, and unique branding. Back to the van after a few more beers.
Weather update: it's supposed to rain for the next few days. Shit, no skiing for us. Right now, we're huddled up in a coffee shop located in downtown Niseko. We just had an American style, bacon and eggs breakfast which really hit the spot.
Now, off to the onsen to relax in the rain.
Not much of an update today. It's still raining here in Niseko. We've heard talks of big snow coming at the tail end of this storm once the temps drop a bit. So….we got talking, and devised a plan to stay in Hokkido for another day instead of flying back to Tokyo.
The plan now is to stay in Sapporo for the next 3 nights and ski Kokusai tomorrow and the next day. We still have a few things to figure out, including transportation, but we're amateur travel agents so I've got some faith.
Tonight we stayed in a small city by the ocean, named Otaru. Centered around seafood and historic buildings, Otaru reminded me a lot of Portland, Maine. Here we ate sashimi tuna, salmon, scallops, and squid. It was the best sushi we've had thus far.
On our way back up to the ski resort (we were going to spend the night there) we ran into a roadblock. The pass had been closed. Luckily it would be opened in the morning. We were a little worried because the snow was falling fast and being stuck in Otaru meant no skiing.
We found what seemed to be a nice spot to park the van, sat back, and turned on Curb Your Enthusiasm using my laptop. This had become a nightly routine.
Knock knock. Please move. We were getting the boot because the parking lot was to be used for a firework show. Not to worry, there was plenty of free parking in Japan. We found a spot about a half mile down the road. Time to enjoy some fireworks!
The rain turned to snow over night. Everything is back as it's supposed to be. To Kokusai we go.
About 10–12 inches overnight. I think we probably saw 3 people skiing the trees all day. Every run we took was untouched. We lapped the gondola about 8 times but had to leave a little early to meet our new friends for Sushi in Sapporo. Oh, and return the van, and check into our Airbnb.
After returning our beloved van, we schlepped around Sapporo for about an hour and a half looking for our Airbnb. Our gear is heavy and carrying it sucks. I'll leave it at that.
Finally, at our Airbnb. By this point, we've totally missed our dinner reservations with Taku (guy we met in the Onsen a few days ago). We felt bad, but there was nothing we could have really done. He didn't seem to mind, just laughed it off.
Time to eat. We ventured into Sapporo, which really seemed like a mini Tokyo. Lights, people, chaos. We settled down at small restaurant in Sapporo Station. Ate some fish, drank some espresso, and did some shopping.
Taku hit us up via Facebook to grab drinks after his appointment, around 9:30. We were a bit tired but couldn't pass this up. We had already left him hanging once.
Taku gave us the location. We showed up, poked our head in the door, and instantly felt like celebrities. Taku!! Taku!! You're Taku's friends!!
We were the only ones in this small sushi restaurant. Cesar, pictured above, started cutting us fresh fish of his choice. Tuna, salmon, kink (his favorite), crab legs, crab insides, and to top it all off, cod sperm, which was actually really good. We were introduced to white wasabi, a Hokkaido exclusive.
Cesar was born in São Paulo, Brazil, where his family owned a sushi restaurant. He visited Japan about 15 years ago and left. In Brazil, he learned English. We talked for about an hour before Taku came.
We kind of got the vibe that, because of Taku, things were different here for us. The beer kept coming and the sushi was cut without us asking. Either his was going to cost a lot, or we were getting a special Taku discount.
Taku (glasses) and Kenya showed us a great time last night. The beer kept coming and conversation was fantastic (thanks to Cesar's translation skills). We ended up paying only ¥12,000 which is about $50 each. We probably consumed about $120 worth of sushi and beer each. We got the hook up!
This morning hasn't been so cheery. Our plan was to rent a car and drive 40 minutes back to Kokusai for a few more powder turns. Welp, we left our international licenses in the van. Damnit!
To the airport it is. With no transportation to the mountains, and a bit of a hangover, we decided to shlep our stuff to a hotel near the airport. Bye Sapporo, bye Hokkaido, it's been fun.
Last night, Sam and I had our final supper. A small spot, traditional Japanese dinning set up, great seafood. Here we reminisced on our trip for a couple hours. For me, and I think for Sam, this trip has made me more aware, more satisfied, more complete as a person. I feel accomplished from my travels, and appreciative of what I have back home.
As I sit in the airport, waiting for a marathon of flights, I'm a bit overzealous and exhausted. I hope to have a more complete conclusion of the trip in the weeks to come.
Thank you for reading this story. I urge you to pack your bags and travel somewhere a bit out of your comfort zone. Different is good. And not as scary as you might think.
Notes
Here are a few notes from my trip. These might be useful for the general traveler, but especially useful those going to Japan.
Get a sim card. It only costs about $5 a day and LTE is plentiful in Japan. We bought ours here: rental.cdjapan.co.jp
Google maps is your best friend. We used it for every navigation need. Subway and trains especially. Google translate as well.
Airbnb if you can. You get much more intertwined in the culture that way.
The trials and tribulations of travel can be tough. Having a good travel partner is key.
Renting a car was the best thing we did. Highly recommended if you are traveling outside the city of Tokyo. Make reservation well in advance (5 months). We rented ours here: fujicars.jp
Get cash. Exchange in Tokyo airport is cheap. About $600–700 lasted us 2 weeks.
Keep a public or private journal on Medium. It's a great way to collect your thoughts through imagery and writing.
Similar Posts by The Author: